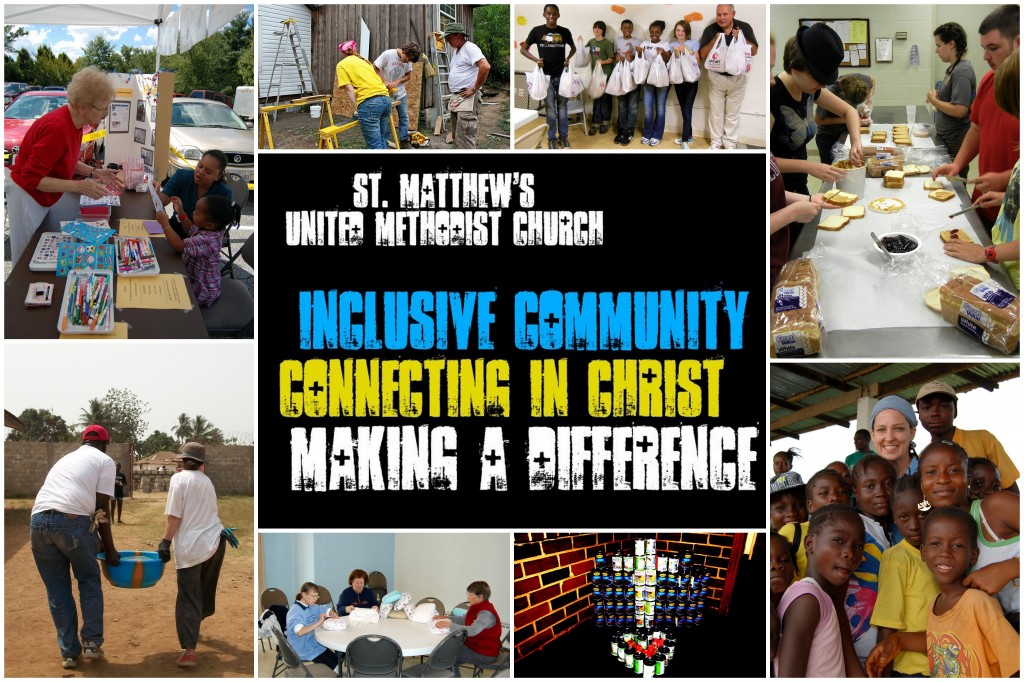 Inclusive Community.  Connecting in Christ.  Making a Difference.  St. Matthew's is a leader in mission in our region and Annual Conference. The variety and impact of our outreach is amazing. The love of Christ is shared by St. Matthew's through our Disaster Response Program, the St. Matthew's Shelter, and local, national, and internation projects, which is coordinated through the Missions Team. We are changing lives in Liberia as we complete a medical clinic for the St. Matthew's, Logan Town community. We are changing lives in Appalachia as we send increasing numbers of youth missionaries to that region. We are changing lives right here in Bowie each and every day through Alpha House, the Bowie Food Pantry, Christmas in April, and Warm Nights. We welcome non-church members to participate in all of our activities. 
Summary of UMCOR's Response to Ebola Outbreak as of October 27, 2014
The United Methodist Committee on Relief (UMCOR) is working with partner organizations to respond to the ongoing Ebola crisis in West Africa and already has issued more $400,000 in grants. Our primary partners have been the United Methodist  Church (UMC) Health Boards in Sierra Leone and Liberia.  The International Disaster Response unit at UMCOR is collaborating with Global Health to provide weekly support to these health boards, as they fine-tune their strategy for combating the disease. Your gifts to International Disaster Response, Advance #982450 enable this response and are the best way to make a difference in the struggle against the spread of Ebola.
UMCOR has:
Distributed 400 personal protection kits
Provided funds to distribute supplies (including gloves and gowns) for health facilities
Provided 76,000 face masks, 7,600 protective suits, and 120,000 pairs of gloves
Provided essential medicines
Provided 10 pop-up tents to be used as overflow or holding units.  
Provided training for 70 beneficiaries to make them trainers on Ebola virus outbreak awareness and sensitization of preventive measures
Conducted workshops for 960 beneficiaries on Ebola virus outbreak awareness and preventive measures.
Provided health facilities materials to prevent contagion
Constructed a holding unit at Mercy Hospital in Sierra Leone
Distributed 400 personal protection kits to health facilities
Trained 200 health workers on Ebola
Provided public awareness messages to impacted communities
Purchased supplies for health facilities in Sierra Leone. 
Implemented a public awareness campaign
Purchased supplies for health facilities in Cote d'Ivoire.
Christmas in April Join us for Christmas in April on April 25, 2015 – the 4th Saturday in April – St. Matthew's and friends participate every year. For more information, please contact the church office.
Our Church Truck Each year in December, the Prince George's County Public Safety Officers: County Police, Fire/EMS, Deputy Sheriffs, and County Corrections Officers conduct a massive Food Basket program.  This year they delivered over 3,000 boxes of food to needy members of our community. Our church truck has been used to assist with this for the last three years. This year, from December 13-19, the truck delivered 500 loaves of bread as part of a three truck convoy delivering 500 food baskets in one circuit.  On two additional days the truck was used to deliver 374 boxes of food, each containing canned goods, fresh vegetables, bread, and a frozen turkey.  On two other days, it was used to collect several hundred pounds of food that had been donated at various collection points and needed to be brought to the central depot.  While completing this task we also picked up 50 frozen turkeys being donated to the drive.