Cross Your 's and Open Your Eyes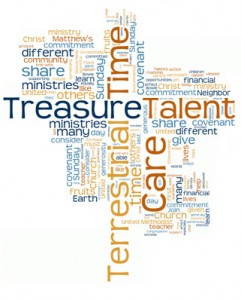 What? Read  that title again! Did you expect it to read: Cross your T's and dot your I's? Part of our covenant with the Holy Spirit is our stewardship with St. Matthew's United Methodist Church.  But how to define stewardship?  It is best to think of it as the four 's: ime, alent, reasure, and errestrial care.
    As part of our covenant with the Spirit of the Living God, we look to scripture to reinforce our stewardship. In 1 Timothy 6:18-19, each of us is asked to be generous! There are many ways each of us can meet our stewardship obligation. Let us open our eyes and hearts to see how you can work toward affirming your stewardship.
     reasure, our financial commitment, is what is generally viewed as our stewardship covenant This commitment recognizes that all that we do in our church is ministry, whether it is administration of church functions, worship, or reaching out to help others.  We are always continuing our ministries as part of our commitment to others throughout the community, nation, and world so there are many opportunities to share. Giving of our reasure is cited in the Bible and we are asked to be generous givers of the first fruits of our labors.  To give generously is to increase our own fruits through the blessings bestowed upon us by our Lord and Savior, Jesus Christ.
 ime is a "fleeting thing" that differs from day to day for each of us.  Though our lives are filled with activities, it is always important that we set aside some time for God. Yet each of us is in a different place in our lives so our generosity may not be equally split among the four stated 's. You may not be able to give of your time consistently on a weekly basis, but maybe you could help occasionally through our N2N (Neighbor to Neighbor) program which goes into effect in emergency situations (think of the snow from last winter!) Whatever time you have to share with God is time well spent!
 alents are fruits that we can share with other venues of stewardship and each of us is gifted in different ways.  To give of our gifts is to be an active participant in the covenant of this vibrant community of the body of Christ. There are over eighty ministries alive and active in our congregation. Surely there is something that is of interest to you.  And remember that the amount of time committed is up to you!
 errestial care is the last area of stewardship.  In Genesis, God gave to mankind the earth to cherish, to keep, and to protect.  We must do what we can to help preserve the preciousness of the earth and its resources as part of our covenant. Think of the things you can do easily.  Here at St. Matthew's United Methodist Church we have a means of recycling paper, cans, and plastic bottles. In 2012, we will learn how to have a Green Church. Join the Environmental Stewardship Committee to learn more!
 Surely, you can consider increasing your stewardship here at SMUMC! Let us reopen our eyes, with God's grace, to see even written scripture differently.  Now as you read, let every  in every word remind us of the cross of our Lord and Savior, Jesus Christ, and the sacrifices He made for each of us. Let those 's be a reminder of how you can be part of the covenant of God by giving of reasure,  alents,  ime, and errestial care to this body of Christ better known as St. Matthew's United Methodist Church.