Sunday Worship Services
Click HERE to see this weeks order of service/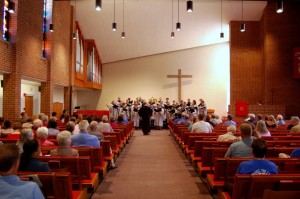 Our worship is grounded in the traditions of the Church and enlivened by the Holy Spirit! "Traditional but not stuffy" is what our pastor calls it…
Here at St. Matthew's, we celebrate the liturgical seasons of the Church year, include all ages in our worship, and enjoy powerful music through congregational singing and the ministry of our choirs, soloists, and Music Director. We gather in worship expecting something to happen!
Members of the congregation participate in worship through reading Holy Scripture, designing flower arrangements and seasonal decor, ushering, greeting, creating bulletin art, preaching, sharing testimonies, singing in the choir, playing in the bell choir, performing in musical ensembles, serving Holy Communion, and more.

Join us for worship!
Sunday Mornings
7:30am Garden Worship Service (July & August)
8:30am Worship and Preschool PraySchool
11:00am Worship, and Preschool PraySchool
*Childcare available for both services
9:45-10:45am Sunday School for all ages  infants through adults!  All are welcome to join us for Sunday Christian Formation classes!
Every Sunday after the 8:30 service, you are invited to join us for Fellowship Hour for light refreshments and fellowship in the Fellowship Hall or grab a cup of coffee and join one of our Christian Formation classes.  On the first Sunday of each month, Fellowship Hour continues after the 11:00 service as well.  Fair Trade coffee, tea, chocolate, olive oil, and more are available for purchase in the Fellowship Hall on the first Sunday of each month during fellowship times.
Wednesday Evenings (Learn More)
7:00-7:30 pm  Simple Prayer
The sacrament of Holy Communion is shared the first Sunday of each month and every Christmas Eve, Maundy Thursday, Easter, and for other special celebrations throughout the year.  ALL are welcome to receive the sacrament of Holy Communion at St. Matthew's.  A gluten free option is available.
The sacrament of Holy Baptism is celebrated several times a year and the dates will be available in the church office. Persons of all ages are welcome to receive the gracious waters of Baptism that initiate us into Christ's holy church.  Rev. Daniel Mejia will meet with parents who present infants and children for Baptism prior to the event. Teens who have not been baptized are required to participate in our Confirmation program.  Adults are required to take the Exploring Covenant course.  Information for both of these courses may be obtained from Rev. Kathy Wadsley, Director of Christian Formation and Family Ministries.
Special services and observances throughout the year include Mission Sunday, Youth Sunday, Appalachia Service Project Sunday, Laity Sunday, Worship and Music Appreciation Sunday, Blue Christmas service, Blessing of the Pets, and more.
Anointing with oil and prayers for healing are offered on occasion throughout the year.  "Scripture strongly affirms ministries of spiritual healing, which in recent years have received renewed emphasis throughout Christ's holy Church…Spiritual healing is God's work of offering persons balance, harmony, and wholeness of body, mind, spirit, and relationships…James 5:14-16a calls us to pray for and anoint the sick, that they may be healed…A Service of Healing is not necessarily a service of curing, but it provides an atmosphere in which healing can happen…Laying on of hands, anointing with oil, and the less formal gesture of holding someone's hand all show the power of touch, which plays a central role in the healings recorded in the New Testament.  Jesus often touched others—blessing children, washing feet, healing injuries or disease, and raising people from death…Anointing the forehead with oil is a sign act invoking the healing love of God.  The oil points beyond itself and those doing the anointing to the action of the Holy Spirit and the presence of the Healing Christ, who is God's Anointed One."  (Excerpts taken from The United Methodist Book of Worship, Copyright © 1992 The United Methodist Publishing House)
To get involved as a Sunday Servant Leader check out http://stmatthews-bowie.org/test/spiritual-gifts/worship/ and let us know your interest.
To sing or play in our music program go to http://stmatthews-bowie.org/test/spiritual-gifts/music/ and we'll welcome your participation!
YOU are invited to join us in worship some day soon!  Come and be part of our Inclusive Community. Connecting in Christ. Making a Difference!  Live Like Jesus.