Summer Sunday School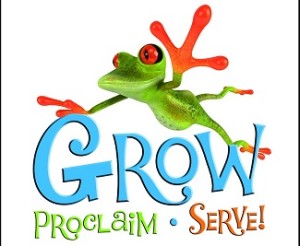 All ages are invited to Sunday mornings 9:45-10:45 a.m.
June 16-September 1 (except on July 21 the 50th Anniversary Celebration).
Children and Younger Youth
Children, ages 4-12, met in Room 223/225 With the Grow Proclaim Serve!  One Room Sunday School curriculum, kids enjoy games and activity based learning for non-readers through skilled readers.  Each Sunday visit Leaper's Point to learn the Bible story via DVD and sign the Bible verse. Older students can help mentor younger children. Current teachers will transition students into summer classes on June 2 and 9.  Parents who have an I Phone can click on "app store" and type in "grow proclaim serve" to download free pointers to help your child apply what they have learned in Sunday School in daily life and more.  Songs and video also available at https://itunes.apple.com/us/app/grow-proclaim-serve!-mobile/id567219181?mt=8
Two & Three Year-Old Class continues in Room 110 using the Grow, Proclaim, Serve! age level curriculum for this group. They will learn the same Bible stories as the One Room class.
Nursery I – For infants and toddlers Room 116
Nursery caregivers introduce Christian concepts using the Rock-A Bye Babies and Waddlers Ministry Guide. Through songs, scripture, finger plays, faith words and phrases and posters, young children begin on their faith journey to learn, know and experience God and Jesus.
Adults and Youth
Older youth and adults meet together in room 126 for an intergenerational discussion on two different books during the summer. Get the book, read it when you are away and join the class for discussion when you are here. Discuss it with your family where ever you are.
June 16 – July 28: A Hopeful Earth: Faith, Science, and the Message of Jesus by Sally Dyck and Sarah Ehrman.  This book draws together the Christian faith of United Methodist Bishop Sally Dyck and the scientific world of her niece, Sarah Ehrman, a high school science teacher to address the "creation crisis." Connect the teachings of Jesus with how we treat our neighbors and God's creation.  Discover how sometimes differing worldviews are both crucial to making lasting changes… and how the church can reach out to the younger generation by joining them in the race to save the planet. Discussion led by the environmental stewardship team and others as follows:
June 16 – Chapter 1 – Our Three Temptations – Jeanne McWilliamson
June 23 – Chapter 2 – Consider the Earth – Marilyn Hammond
June 30 – Chapter 3- The Love of Stuff – Elizabeth Buckner
July 7 – Chapter 4 – Creating Hell All Around Us – Julie Modlin
July 14 – Chapter 5 – Take It to the Water – Jamie Vavra
July 28 – Chapter 6 – Bless This Food!  __________________________
Books available in paperback $7.00 in class.
August 4 – September 1: Revelation and the End Times: Unraveling God's Messages of HOPE by Ben Witherington III. This book unravels God's message for our time.  With his rich knowledge of and provocative insights into the New Testament, Ben Witherington will guide you into a deeper understanding of the truths found within Revelation's often mysterious text, so that you can feel more secure in your faith. Class will read scripture and see a video prior to discussion of each chapter as follows:
Aug. 4 – Chapter 1 – The Character of Biblical Prophecy
Aug. 11 – Chapter 2 – The Return of the King
Aug. 18 – Chapter 3 – The Other World – Heaven and Hell
Aug. 25 – Chapter 4 – Raising the Dead
Sept. 1 – Chapter 5 – The Afterlife – The Rapture, The Millennium, and The New Heaven and The New Earth
Team led.
Books available in paperback $6.30.
Updated 6-18-13