United Methodist Volunteers in Mission (UMVIM)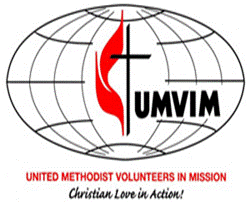 The UMVIM motto, 
Christian Love in Action, is taken from 1 John 3:18, in which Christians are asked to love not in words or speech, but in truth and action.
Living our faith is at the very heart of our Christian calling and reflects the purpose that has grown out of our understanding of who we are and what we want to be: Those who express, Christian Love in Action.
VIM allows us to provide a constructive response to disasters and hardships. Short term volunteer teams are sent out to do construction & spiritual formation projects for people and places in need.
VIM teams do some of God's hard work, reaching out as the hands and eyes of Christ.
VIM is a spiritual journey for the volunteers even on construction sites, regardless of skill levels.
VIM accomplishes tasks that may not otherwise get done. When others move on, VIM keeps working.
VIM provides real-life experiences in the stewardship of life, love and resources.
Since 1988, St. Matthew's has participated in UMVIM work sending Teams to National and International Projects serving the Hurricane relief efforts in the Gulf Region and building houses for the impoverished of Anapra Colony in Juarez, Mexico.  UMVIM trips and special appeals are scheduled each year with lots of opportunities to serve and to help.  We only ask that you journey with us.  Whatever you can do or whatever you can contribute it all goes to make us a more active witness for Christ and you the ability to witness Christian Love in Action.
The Mission Committee says, "It is not important where you go to church, BUT where your church goes!"
Help us go to the four corners of the earth and to many communities in our local area.  Let us continue to be a Church in Mission.
See Also:
Upcoming VIM Trips
Recent VIM Trips