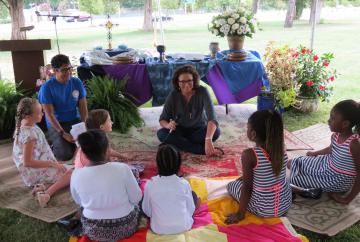 Sunday Morning Adult Learning Opportunities
St. Matthew's is committed to providing opportunities that help adults progress along a disciple's path, growing in the knowledge, love and service of God through personal and corporate disciplines of Christian living. Small groups provide caring, support and fellowship as you journey together.
Sunday Morning Studies, 9:45–10:45 a.m.!
Adult Bible Study
The Call – The Life and Message of the Apostle Paul: September 13 – October 25, Room 224
Experience faith through Christianity's greatest teacher and missionary. Go with Adam Hamilton via DVD as he follows the journeys of Paul. See where some of the most dramatic events in the spread of Christianity took place, and gain a better understanding of Paul's missionary travels.
Not a Silent Night – Mary Looks Back to Bethlehem: November 1 – December 20, Room 224
Witness the life and ministry of Jesus Christ through the eyes of Mary. In this DVD study, Adam Hamilton helps you witness the life of Jesus form Mary's unique perspective, starting at the very end and traveling back in time to the very beginning – the night of Christ's birth.
Church, Politics, and the Common Good
A Call to Action – Women, Religion, Violence, and Power: Begins September 13, Room 126
The world's discrimination and violence against women and girls is the most serious, pervasive and ignored violation of basic human rights. President Carter was encouraged to write this book by a wide coalition of leaders of all faiths. His urgent report is current and covers the plight of women and girls worldwide. This is President Jimmy Carter's call to action.
More Than Just Music – J.S. Bach, Cantata 61: November 29, Music Room 124
"Savior of the Nations, Come." No previous knowledge of music is required.