REPORT:
VIM MISSION TRIP TO CRISFIELD, MD

From February 4-8, 2013, I visited Crisfield to: (1) meet with the newly-hired case manager for the Somerset County Long-Term Recovery Committee, (2) do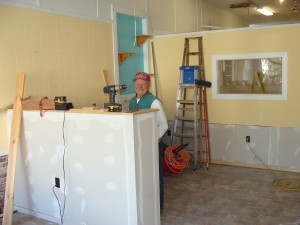 repair work, and (3) gain more knowledge about the recovery efforts and houses and families affected by Hurricane Sandy.
FEMA and the Small Business Administration have had a continual presence, but have set a deadline of Feb. 12 for residents to apply for help in the form of grants/loans for those who qualify.  Many houses have been condemned or abandoned.  Some residents are living on their second floors pending a contractor or church group coming to help fix their homes.  In some sections of Crisfield, over 50% of the homes were damaged by wind and tidal water.
The case manager and I met and reviewed recovery forms and processes I have collected from the Christmas in April program, UMC Emergency Response Team, and UMCOR case management program.  An immediate need is to determine materials and supplies needed on hand at the local lumber/hardware store for use by volunteers working on houses.  Christmas in April forms help with this process.  Presently, volunteers often drive to Salisbury or Pocomoke to purchase supplies, time better served if available in town.
I attended a Town Hall meeting at the local high school where the Chairman of the Committee introduced the new case manager.  The meeting was well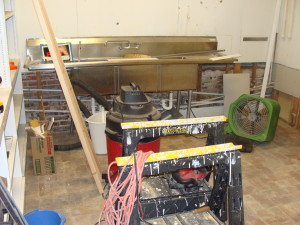 attended by residents, Mayor, City Council members, and the Chair of the Somerset County Commissioners.  Representatives were also on hand from Senator Cardin's and Mikulski's offices and Congressman Harris' office.  Many complained of insurance companies not honoring homeowners' policies in a timely fashion or providing only limited damage compensation. University of Maryland Carey School of Law students offered low-cost consultations for home and business owners who needed legal help. Called "Just Advice," they can be contacted at 410-929-4809 or www.justadvice@law.umaryland.edu by anyone in Maryland needing legal help for insurance, consumer fraud, tax, civil, social security, housing, family, employment, and other issues.
I worked two days alongside a team of Lutherans from Lancaster, PA, on an office for the case manager.  The space had been used as a restaurant six years earlier.  It had had over a foot of saltwater in it from Sandy.  Electricity and plumbing had to be repaired, damaged wallboard and insulation removed, and mold treated. Roof issues need to be addressed, as well as damaged ceiling tiles and lighting replaced.  Pictures on the church web site under Missions give you an idea of work done.  $129 of the church's Hurricane Sandy-Crisfield fund went to purchase materials and supplies.  That fund of private donations will be more necessary when I lead future teams to Crisfield for recovery repair work on homes.  A 5-night trip leaving April 7 is already full.  I will schedule another for March if there are volunteers from church who want to go.  Contact me at 240-463-8662 or drtblades@comcast.net.
Dan Blades