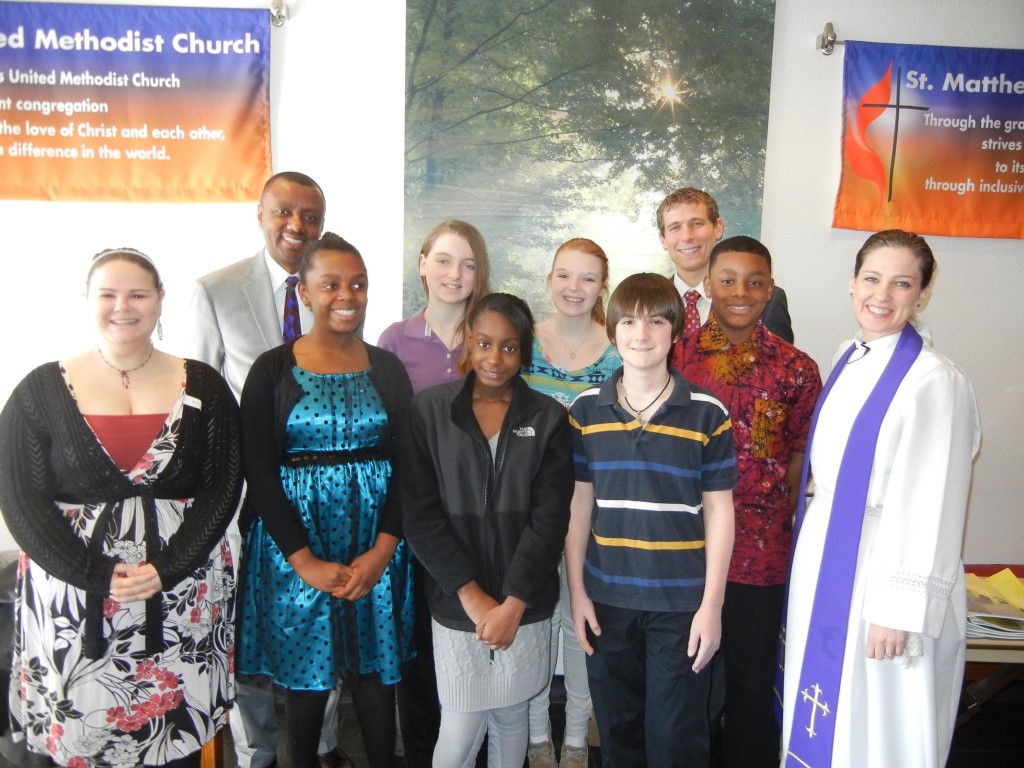 Youth Sunday School meets from 9:45-10:45 on Sundays.  Middle School and High School meet separately and use their own curriculum.  Both groups focus on how to integrate faith with current issues facing teens in the world.
Youth Choir rehearses Sunday from 9:45am-10:45am.  They are youth-led and sing contemporary music.  They perform three times a year during worship services.
Worship participation by our youth is encouraged. They assist in worship services as acolytes, as lay readers of the Scripture lessons, Communion assistants and in other leadership roles. They also serve as aides in our Vacation Bible School each summer and as fellow members of our church at various levels of the church's life and mission.
Acolytes carry the flame of Christ's presence into and out of each worship service and assist the pastors during worship. Youth from grades 5 – 12 are invited to join.
Youth Group (UMYF) meets Sunday evening from 6:30-8:15.  Middle School and High School meet separately.  Both groups begin the evening together with a brief worship service.  Youth Group focuses on small group Bible study and faith conversation, coupled with service projects and fun.  Once a year we have a weekend retreat to better connect with God and each other.
Confirmation is held for any youth having reached the eighth grade. Classes usually begin in late January and continue until Pentecost and include a field trip to Baltimore and a weekend retreat.  Classes are co-taught by the Pastor, Director of Christian Formation, and Youth Director.  Confirmation concludes with a church-wide potluck celebrating all current Confirmands and those who have already been through the program.
Our Middle School Mission Trip to Washington, DC exposes our middle schoolers to urban poverty through a three day mission experience working at soup kitchens, food pantries, and with the homeless.  This trip is during the later part of the summer.
Our High School Mission Trip with the Appalachia Service Project exposes our high schoolers to rural poverty through a weeklong mission experience repairing homes and creating relationships in rural Appalachia.  This trip is during the middle part of the summer.
St. Matthew's is a proud sponsor of all of our Scouts in Boy Scouts of America and Girl Scouts of the United States of America.