If you would like to see Making Sense of the Bible: An Evening with Adam Hamilton and cannot join Adam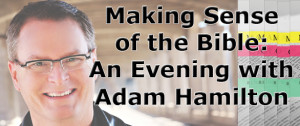 Hamilton in person on Wednesday, April 23 at Foundry United Methodist Church you can watch online as the event will be live streaming.
In order to watch, please go to www.foundryumc.org on the night of, and click on the large image that will be on the homepage about watching Adam Hamilton live. If you experience any technical issues, please call Foundry UMC at 202-332-4010 and we will work to try to resolve the issue.
We will miss you being here in person, but are so glad that you can join us online.
See you April 23 at 7 PM.
Foundry United Methodist Church