Please keep our 2014 Liberia Mission Team in your prayers as they serve St. Matthew's Church, School, and Clinic in Logantown, Liberia this week!  As they send us updates on their work and experiences, we will post them below.
Day 4 (Sunday, February 23, 2014)
This morning we have our last breakfast at the Kendejah resort and pack our bags into the back of Alfred's pickup truck.  Alfred and our driver, George, a close friend or brother to Fatu, load up our truck and then another several bags appear.  They look in disbelief at the new bags, pile the old ones higher, and begin again.  This process repeats itself.  By the time they're finished and we are ready to go, the bags are stacked several feet off the bed of the truck, a carefully constructed tower of blocks.   We drive to the mission house, where we will be staying the rest of our time here.  We don't go in yet, because we are headed off to church!  Before leaving for church, Ginger finds someone to wrap Raquel and Mary's hair for the service.  Melissa wraps her own and then we're all ready.
We arrive at church a little early, and meet with several old and new friends.  Old team members reunite with Jerry, the principal of St. Matthew's school, as well others they have met before.  Members of the church come and greet all of us before we go in to sit.  For those of you used to our services at St. Matthew's Bowie, let us tell you that the service here is much different!  There are two parts of this service: the church service and a farewell service for the outgoing pastors.  First of all, the dress is fabulous.  All the women wear headscarves and dresses of all myriad of colors.  Second of all, there are very few hymnals, so most people already need to know the songs.  The choir, though only about a dozen members, produces a brilliant and joyous noise and leads us in all of our hymns.  For offering, everyone comes to the front of the sanctuary to drop off money and many women dance by the offering basket.  During the service, our team is introduced and we present the banner representing the ties between St. Matthew's in Bowie and Logan Town.  In the second part of the service, there is a farewell ceremony for both the senior and associate pastors, who will be transitioning to new roles come next week.  After the church service, we enjoy the opportunity to greet some of the school children whom we will see tomorrow.
We return to our new home to enjoy our first meal cooked by the amazing cook, Fatu, wife of Alfred.  All the team members from last trip raved about her food, and we are not disappointed.  Following lunch, we pay a visit to an orphanage that Bill and Didi support.  The children are ecstatic to see us.  As soon as we pile out of the van, they run up to bestow us with hugs and reach for a hand to hold.  All the team members are surrounded by several children, all eager to get to know their new friends.  Melissa is a big hit by offering small flower mirrors to the girls, who spend the rest of the time protecting and using their new gifts.  Many team members are shown the pigs, the new library (more about that later) and other places around the orphanage.  Ginger learns a song from several girls.  Several team members try to explain snow, and Mary has a picture!  We take lots of pictures and Gene takes some videos to share.  We are sad to leave, but enjoy the time we've spent with the kids.  The road back (and there) is a bumpy one.  It's under construction, but that means something a little different than it does in the States!  The road is a combination of dirt and rocks – it gives a whole new meaning to bumpy ride and sometimes, road rules seem to only be recommendations.
Once we get back to the Guest house, a friend of Rick's daughter, Peewee Flomoku, talks to us about Carter Center – a really interesting and enlightening conversation with many connections to what we've been doing, insight into making cultural changes and explanations for the difficulty in making changes to customs, especially in the villages.
We feel like we've been here a long time already, but we haven't even started the work we came for. That will start tomorrow. It is obvious that the work God sent us for however, has already started!
Day 3 (Saturday, February 22, 2014):
When you travel to a place that has a time difference, your body clock has a tendency to be confused for a few days. As a result, most of us either wake up a few times during the night or wake up extra early.  There is something very soothing about opening the door to your room and hearing the sound of the ocean. This morning we gather for breakfast at the resort's restaurant, before heading out on a tour for most of the day.  We spend a lot of time in the bus this morning.  This is an opportunity to see the city of Monrovia for the first time for several members of the team, and an opportunity to revisit it for the four members of the team who went on the last trip.  For those visiting a second time, seeing Monrovia brings a lot of hope, for many improvements have been made in the last two years.  Where there were only poles before, there are now power lines.  As opposed to only one stoplight, we passed at least six!  We drive through Monrovia and take a detour to catch a glimpse of the school before heading to the village. We are met with a traffic jam because of a parade of children (with parent chaperones) coming our way up Logantown Road. Picture a "mini me" version of a Mardi Gras parade.  There are kings and queens sitting on top of cars with 4ft tall secret service details complete with black suits and dark sunglasses, there are majorettes, there are leather boot girls with teddy bear backpacks…It is a sight to see! We make it to the school and catch a glimpse of the school sign we painted the last time. They have not only re-painted it, they have completely re-done it. It looks great! It really is a beacon in the community.
We drive outside the city and finally make it to Demeh village, where the team visited last trip.  We are welcomed in the traditional manner, with beating drums and the whole village singing and where the chief of the village tossed rice on the team then shared a kola nut with Pete, our "chief".  Next we were guided on a tour of the village.  We learned about the process of building a traditional mud brick house from the surrounding red clay, and saw houses at all four stages of the process.  We also learned about Bai T Moore, a famous Liberian writer, who lived in this village.  We were welcomed to his memorial and met his nephew there.  Additionally, we were shown the more recent memorial of Peter Y. Ballah, one of Bai T. Moore's proteges.  Mr. Ballah, who members of the team met when they visited two years ago, was a cultural icon in Liberia and a guiding member of the village. A few months after we visited, Mr. Ballah passed away and per his request, was honored with a memorial next to his mentor, Bai T Moore.   Next to the memorials is a two room elementary school that we pay a visit to. In one of the rooms, which are around 15' X 15' , we notice 4 blackboards, one in each corner. We ask why and they explain that the classroom houses 4 classes of 15-20 students…at the same time!! Imagine 4 teachers trying to teach 60-80 students, facing different directions, in a  tiny classroom with no light and only a handful of chairs or desks. And we complain about overcrowding in our schools!  Our tour culminates with a wonderful cultural dance display by girls and boys of the village led by a wonderful group of drummers, one with a "talking drum".  Bill and Ginger are asked to give some remarks on behalf of the group and thank the villagers and send them blessings from St. Matthews, Bowie and ask for their prayers and blessings.  Gene took a video of the whole ceremony, which we hope to share with you all when we return!
After the village tour we go to a private home for lunch.  This is a "Liberian Modern" home on the bank of  the St. Paul River, owned by an architect and his wife. The architect's design objective was to be able to see the St. Paul River from any room in the house, so it is open and airy with lots of windows. There is a wonderful  bourganvilla . There is a covered patio out back where our hostess (Josephine) has set out a delicious spread of traditional Liberian Food – Potato Greens  (stew made from the leaf of the sweet potato) with chicken, roasted mackerel, rice, fresh pineapple and almond pound cake for dessert.  The fish is so good that Pete, who never eats seafood that swims, actually enjoys it!  It is pineapple and papaya season right now, so both fruits have been on every menu.  Don't feel sorry for us, though, because tree ripened papaya and plant ripened pineapple are fabulous and have no relationship in taste to the fruit we get that is picked green and then shipped to us.  There are two hammocks on the patio and Ginger and Mary enjoy a few minutes of blissful  rest.  Many of us express the same general sentiment… "I could get used to living like this!"  Josephine takes a special liking to Pete and christens him "my new boyfriend" and insists on taking a picture with her boyfriend and his wife J.  All in all it was a wonderful lunch experience.
We go back to the hotel and have evening vespers.  We are joined by three of Bill's cousins who have dropped by to see him. We get interesting perspectives on Liberia and its progress over the last 2 years from the entire group.  Afterward part of the group goes back to town for dinner, where they meet another one of Bill's cousins, while the rest remain at the hotel and have dinner by the pool.
It has been a long day but it has been a good day. We go to bed tired, but a little better adjusted, to enjoy our last night at RLJ Kendejah before going to the mission house tomorrow.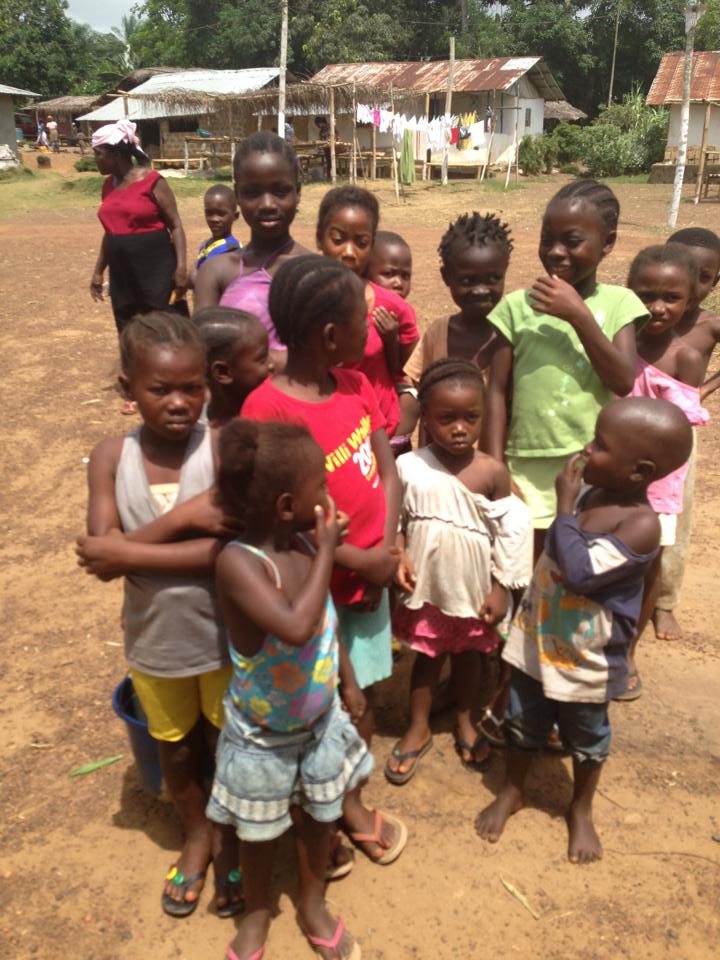 Day 2 (Friday, February 21, 2014): Arrival
Our flight is an overnight one.  Unless you are independently wealthy and fly first or business class all the time, if you have ever tried to sleep in a plane (the economy section that is), you know that it is challenging at best.  The noise of the plane, occasional turbulence, people's voices, the regular disturbances of the flight attendants with the drink cart, then the food cart, then the Duty Free cart, then the drink cart again, then … I think you get the point. Couple that with the time difference (time in Liberia is 5 hours ahead of time in Maryland) and the fact that the sun started to rise about 4 hours after we took off…we don't sleep very long or very well on the plane. After flying for 10 hours, our plane makes a 1 ½ hour stop in Accra, Ghana to let off some passengers and pick up some new ones. The stop is a welcome one because it lets us get up and stretch our legs and also because the plane lets off more people than it picks up in Ghana, meaning that we end up with a much less full and much more comfortable plane for some of us (we can actually recline our seats and spread out).  We are all alert as the plane starts to descend over a lush green landscape and comes in to land at the very modest (at best) Roberts International Airport in Liberia. Then the heat and humidity as we climb down the steps of the plane onto the tarmac to the organized (or maybe not so much) chaos of the airport and its tiny baggage claim area. Luckily we had arranged for the same person, Calvin, who transported us to and from the airport the last time to assist us again.  He and his crew collected our 22 checked bags (which we had tagged with bright yellow pieces of cloth for easy identification) and he ushered us through customs and out to the parking lot and the waiting van. Just a quick note about the humidity… it is not oppressively hot, but when you sweat, it doesn't evaporate so you don't get relief.
We arrive at RLJ Kendejah a little before 5 o'clock in the afternoon, the same resort where the team stayed last time they got to Liberia.  It is a beautiful place on the Atlantic Ocean and with many pods across the grounds, each with several rooms.  We split up and enjoy showers and air conditioning in our rooms.  Over the next several hours, the team splits up to rest and then gradually comes back together.  Soon after we arrive, Alfred shows up at Kendejah.  Those who were on the last trip happily greet him and have the opportunity to speak on the phone with his wife, Fatu, who provided the team with wonderful food last trip and will do so again this trip – we all look forward to it!  Those who are new are excited to meet Alfred, who we've all heard so much about.  While we are sitting together, Mary brings out the guitar that she heroically carried through all of our flights.  Jen and George (team members from our previous mission trip to Logantown) sent this electric bass guitar and amp as a gift to Alfred.  He was so excited for the gift and gets up to pose while a few team members capture photos.  Alfred joins us for dinner on the deck outside the main area of the resort.  We sit by the pool, looking out on the beach and sunset, to share dinner.  Everyone gets a variety of dishes and Pete orders fried okra with cow skin for the table.  When Pete saw Cow Skin on the menu, he asked what it was.  Skin from a cow, the waitress replied.  "But that's leather," Pete cried, "we make shoes out of it!"  Everyone had a good laugh, but they were sadly out of cow skin.  At dinner we met with Shadrene, Didi's second cousin, who organized our wonderful tour for Saturday. We all go to our rooms, exhausted, but excited.
Day 1 (Thursday, February 20th, 2014): A traveling we shall go
Our itinerary is not ideal. We travel on Delta from BWI to Atlanta at 12:30pm. We have a 3 hour layover in Atlanta. Bill gets to spend some time at the airport with his brother (who lives in Atlanta). We leave Atlanta at 5:30pm for JFK in New York. When our plane lands at Terminal 2, our flight to Monrovia is already boarding… at Terminal 4. We are ushered to a shuttle bus which takes us to the new terminal and then we have a long walk to our gate… B36. When we arrive, we are among the last to board the plane. They tell us we will have to check our carry-on bags because all the overhead bins are full.  We finally get on board (with all our carry-ons because there actually were some empty bins) and settle in for the long, almost full, trans-Atlantic flight.  To our big, noisy, metal home with for the next 14 hours…. With 200 other room-mates. Some of us are nervous. Some of us are excited. Most of us are tired. ALL of us are looking forward to what the new day will bring…