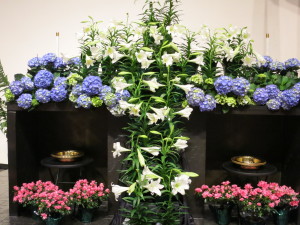 Wednesdays: Lenten Soup and Salad Supper in Fellowship Hall at 6:30 p.m., followed by the Simple Prayer worship service, 7-7:30 p.m.
Fridays: A Time for Prayer is being held Fridays 7-7:30 p.m. during Lent prior to Holy Week.
Palm/Passion Sunday Worship, April 13, 8:30 and 11 a.m.
This special worship service will embody the sharp contrasts of Holy Week. In the Entrance with the Palms, we will experience the joyous demonstration of loyalty to Jesus as he enters Jerusalem. As we experience God's Word through dramatic word and symbol, we confront and respond to the story of Jesus' passion. The passion narratives in scripture are highly unified and dramatic, and it is powerful to experience the story in its wholeness before we reflect at greater length on its various parts during Holy Week.
Holy Week Meditation Stations, April 13–April 18
During Holy Week, we will have several meditation stations set up in the sanctuary that will allow you to reflect on different stages of Jesus' suffering as he prepared for the crucifixion and resurrection. We invite you to stop in as many times during the week as you would like to prepare for Easter. The sanctuary will be open as long as the church is open and the meditation stations are self-directed.
Maundy Thursday Worship, April 17, 7 p.m.
"Maundy" Thursday, from the Latin mandatum novum ("new commandment"), focuses on the institution of the Lord's Supper and on the commandment in John 13 in which Jesus, after washing the disciples' feet, tells them to "do as I have done to you." Worship will provide an opportunity for us to respond to these commandments through washing one another's hands and sharing in the sacrament of Holy Communion at the prayer rail. The Chancel Choir will share special music for the occasion.
Prayer Vigil, April 17-18
Prayer Vigil is a time when we enter into continuous prayer, beginning with the arrest of Jesus through the crucifixion. It is our hope to have a person or persons continually in prayer starting Thursday evening, April 17, at 8:30 p.m. through Friday April 18, at 6 p.m. Persons wishing to participate are asked to sign up on the sheet in the Tower of Opportunity in the Narthex. Please indicate whether you will come to the church or pray at home. If you are coming to the church, please leave your phone number so that you can beprovided with the special access code that will be used for entry during the Vigil, as the regular access codes are not active after 9 p.m.
Good Friday Worship, April 18, 7 p.m.
Joel Raney's cantata The Lord of the Dance will again be the centerpiece of this year's Good Friday service. The work is scored for violin, flute, clarinet/oboe, cello, and piano, and incorporates the story of the passion and death of Jesus. Raney's deft use of material from several hymns (including, of course, "The Lord of the Dance") makes this cantata a gem of contemporary music writing for an audience of all ages. Please join the Chancel Choir and our instrumentalists on Good Friday evening, April 18, at 7:00 p.m. for a prayerful and inspiring choral service.
Easter Celebration, April 20
Christ is risen indeed! Alleluia!
6:30 a.m.: Sunrise Communion Service
7:15 a.m.: Breakfast in Fellowship Hall
8:30 a.m.: Worship Service with Communion
9:45 a.m.: Sunday School for age 3 – 5th grade
11:00 a.m.: Worship Service with Communion