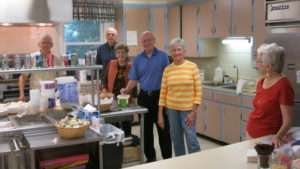 Dinner Church will offer an alternative worship service during Advent.  It will be a simple meal (soup and bread–with a vegetarian option) along with a short meditation and some family-friendly discussion. This will be held in Fellowship Hall at 5:00 p.m. on Saturdays in December.  It will end by 6:15 p.m. when we all will help to clean up.  Please share this with anyone you know looking for a non-traditional service at a non-traditional time!
Dinner Church FAQs
Dinner church successfully opened for worship last Saturday with 17 people in attendance.  The food and fellowship were paired with reflections on Advent.  Thinking about attending?  Here's what you need to know about Dinner Church:
What food do I need to bring?  None.  The soup and bread are provided by volunteers.
Can you accommodate my special dietary needs?  Yes.  There will be 3 varieties of soup including a vegetarian soup.  At least one soup will be gluten-free and one will be non-dairy.
Can my kids come?  Yes.  All ages are welcome and there will be an activity to engage young ones.
What time does Dinner Church start and end?  We begin at 

5:00 p.m.

  The meal/worship will end by 

6:15

 and everyone will pitch in to clean up, which goes very quickly.
When and where is Dinner Church held?  Dinner Church will be in Fellowship Hall on the Saturdays during Advent (December 9, 16, and 23).