Jesus, full of the Holy Spirit, returned from the Jordan and was led by the Spirit in the wilderness, where for forty days he was tempted by the devil. He ate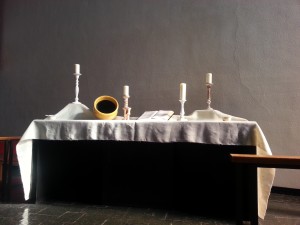 nothing at all during those days, and when they were over, he was famished. The devil said to him, "If you are the Son of God, command this stone to become a loaf of bread." Jesus answered him, "It is written, 'One does not live by bread alone.'"  –Luke 4:1-4
The forty days of Lent provide time for us to confront our hunger and thirst.  What do you crave?  What are you hungry for?
Sometimes our cravings are for things we need—healthy, life-giving things.  Other times, we crave the thing that will do us the most harm.  Whatever your understanding of evil or "the devil," the truth is that we are all tempted.  It is also true that in Jesus Christ all our cravings are satisfied.  What Jesus teaches us as he travels through his forty days in the wilderness is that our strength to resist temptation and to live the life we are truly called to live comes from being led by the Spirit and relying on the word of God in scripture.
Jesus quotes Deuteronomy 8:3 which says, "one does not live by bread alone, but by every word that comes from the mouth of the Lord."
Join us for this journey through the 40 days of Lent.  Be honest about what you crave.  Seek the One who can satisfy your hunger and thirst.  Clear some space in your life and in your heart in order to be filled with God's mercy and grace.  Come as you are and be nourished by the Word.
Every Wednesday through Lent
 Soup and Salad Supper   6:00-6:45 p.m.
 Simple Prayer Service 7:00 p.m.
March 12
Lenten Brunch     9:00 a.m.
Holy Week Activities
March 20
   Palm/Passion Sunday Services 8:30 and 11:00
   Procession from Free State Mall area to St. Matthew's   10:15
   Easter Egg Hunt  12:30 p.m.
March 23
   Soup and Salad Supper  6:00-6:45 p.m.
   Simple Prayer Service     7:00 p.m.
March 24
   Maundy Thursday Service        7:00 p.m.
   Prayer Vigil  7:30 p.m. to 6:00 p.m. Fri Mar 25
March 25
   Good Friday Services     12:00 and 7:00 p.m.
March 27
   Easter Celebrations, March 27
   Christ is risen indeed!  Alleluia!
6:30 a.m.:   Sunrise Communion Service
7:15 a.m.:   Breakfast in Fellowship Hall
8:30 a.m.:   Worship Service with Communion
9:45 a.m.:   Sunday School for ages 3 – 5th grade
11 a.m.:      Worship Service with Communion