On  Saturday, November 2, from 10 a.m. to 3  p.m.,  St. Matthew's will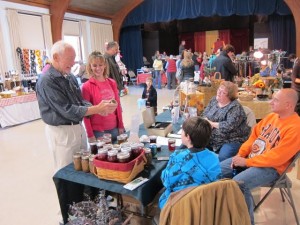 host the 22nd annual UMW Craft Show, featuring handmade crafts, delicious baked goods, and a sloppy joe sandwich.  Crafters will be located throughout the main floor of the church — several booths will feature folks from St. Matthew's!
This is  the major fundraiser for the United Methodist Women.  Proceeds from the event will benefit mission projects they support.
There will also be fundraisers:  Kay Fuller's paintings for ASP and 50th Anniversary cookbooks.  This year, canned goods will be collected for the Food Pantry. Admission to the craft show is free.