Community Fest at St. Matthew's—Saturday, September 7, 2013
Click Here to print Participation Form
Click Here for Printable version of MAP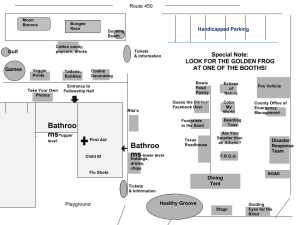 11 a.m. to 3 p.m.
Save this date for the Community Fest at St. Matthew's—Saturday, September 7, 2013. Community Fest is a celebration within the church family and an invitational event to show the community around us who we are. The festival runs from 11 a.m. to 3 p.m.
C.H.I.P Child Identification Programs, flu shots by Rite Aid, Guiding Eyes for the Blind demonstrations are some of the public service events to see.

Delicious food from Texas Roadhouse, Rita's Italian Ices, hot dogs, popcorn, cotton candy keep every body full and happy. Children's games, moon bounce for kids, the Dunk Tank, miniature golf are some of the fun activities all can enjoy.

Community Fest was a home run last year and is a perfect way to kick off our Fall season at St. Matthew's. It was the result of many months of planning, coordination, and execution by many ministry teams, staff, and volunteers—all led with grace, skill, and amazing organization by Barbara Lambert.
This year Mary McClurg and Ray Denmark are providing their time and talents to keep Community Fest in fine working order. We learned a lot last year and want to make this year's celebration even better. To do that, we need your help in putting on is event. We need people to work on logistics (setup, traffic control, clean-up), games, food, the first aid station, and distribution of flyers and coordination of donations.
We also need to borrow or receive donations of:
• Saw horses (4+)
• Orange traffic or sports cones
• DRT Green vests
• Free-standing canopies (10' and 20'), the pop-up
types, no ground stakes
• Outdoor extension cords
• Surge protectors (3)
• Child's wagon with sides
• "Pencil balloons" for making balloon animals
• Mardi Gras beads
1 Peter 9-11 says: Offer hospitality to one another without grumbling. Each of you should use whatever gift you have received to serve others, as faithful stewards of God's grace in its various forms. If anyone speaks, they should do so as one who peaks the very words of God. If anyone serves, they should do so with the strength God provides, so that in all things God may be raised through Jesus Christ.
Churches are not built by an occasional home run, but by many players who are willing to devote their time, talent, and treasure to keep the momentum going. Over 100 volunteers got off the bench and stepped up to the plate last year—all hitting the ball for St. Matthew's and the Lord. Making a Difference.
For more information, to volunteer to help, and to loan/donate materials, please contact Ray Denmark (raydenmark@stmatthews-bowie.org) to join the team for this great event. George Wood, Communications