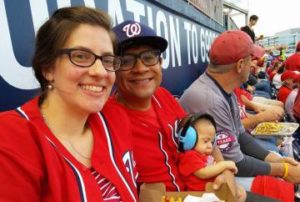 Daniel began his tenure at St. Matthew's July 2014.
Pastor Mejia is coming to St. Matthew's after faithful service to the congregation of Emmanuel UMC in Beltsville, Md. During his time with them, Emmanuel UMC grew in worship attendance and began many ministries, including: Adult ESOL Classes, monthly food distribution, community garden, youth group and youth mission trips, and a revitalized Sunday School ministry.
He has also served the United Methodist Church both at the conference and national levels. Pastor Mejia just joined the Micah preaching cluster sponsored by Fuller Seminary. One of the most important aspects of his ministry is his commitment to his accountability group of pastors, which has been meeting since 1998.
Pastor Mejia became an American citizen Feb. 2, 2010. He recently married his best friend and fellow United Methodist pastor, Rev. Michelle Thorne Mejia June 29, 2013.
Born in Torreon, Coahuila, Mexico, Daniel Mejia is the oldest of three sons of Ciro and Leticia Mejia. He attended The Universidad Ibero-americana where he earned his Law degree in 1994. However, his plans to be a lawyer were interrupted by God's call to full-time service.
In 1995 he answered the call to come as a missionary to serve in Valdosta, GA, working at Bemiss United Methodist Church and serving Hispanic migrant workers. As God continued to call he attended Wesley Theological Seminary in Washington, D.C. in 1997 and simultaneously served the Hispanic congregation at Arlington United Methodist Church in the Virginia Conference.
He graduated in 2001 and was ordained an Elder of The United Methodist Church in 2004. He was selected to be among the first group of Lewis Fellows, a two-year program recognizing and encouraging young effective pastors across the country.
Pastor Mejia has served as the vice president of GRACE Ministries in Arlington, board member of Just Neighbors, and is currently an adjunct Professor for the Practice in Ministry and Mission Program at Wesley Theological Seminary.
Contact Daniel
Phone: (301) 262-1408
Email: daniel@stmatthews-bowie.org