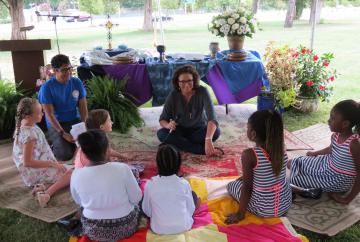 Chelsea Spyres joined our St. Matthew's family as the Director of Christian Formation in July 2016. She is responsible for our work around Christian formation, both children, and adults. She is excited about incorporating service, worship, and fellowship into our understanding of Christian Formation to work alongside our educational offerings.
Before coming to St. Matthew's she served as a US2 missionary working with the homeless and low-income individuals in Detroit through the NOAH (Networking, Organizing and Advocating for the Homeless) Project. In her two years where she worked as a case manager, seeing clients one-on-one, helping the organization to expand in this area to provide for stronger long-term support for clients.
Chelsea's undergraduate degree is from the University of Delaware in Human Services, with a minor in Disability Studies; her family and home church are both in Delaware. During her time at the University, she was active in the Wesley Foundation, where she served as the Prayer Czar for two years. In this position, she coordinated prayer, worship and retreats and spring break mission trips for the organization. In the summers between college terms, she worked at Carolina Cross Connection, a home repair ministry coordinating youth mission trips in North Carolina. She plans to attend Wesley Seminary in the next few years.
For fun, Chelsea loves to hike, go camping, find a random spot to hang her hammock, go on bike rides, watch movies, and explore new places with friends.
Contact Chelsea
Phone: 301-262-1408