50th Anniversary Celebration Weekend—July 19-21, 2013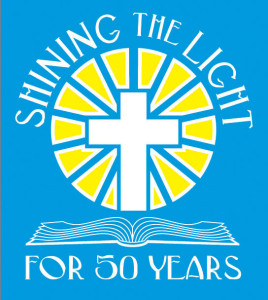 Wow! What a weekend! The 50th celebrations were a smash all around. Dinner, dance, messy party, musical extravaganza, service, lunch and fellowship – with alumni and current members brightly shone the light on our past, present, and future. Check out the highlights.
Click below to see photo albums from events:
July 20, 2013 50th Anniversary Celebration Banquet
July 20, 2013 St. Matthews 50th Messy Party
July 20, 2013 St. Matthews 50th Concert
July 20, 2013 St. Matthews 50th Anniversary Service and Lunch
Friday, July 19          7:00 – 11:00 p.m.        Celebration Banquet at Camelot in Upper Marlboro
 This celebration dinner was held at Camelot by Martin's at 13905 Central Avenue in Upper Marlboro (behind the mega-church across from Six Flags).  There were special guests, alumni, and a video history including interviews with former clergy members.  It was a lovely and elegant evening with cocktails, a delicious buffet dinner with prime rib and crab cakes, a recollection video presentation of St. Matthew's memories by our former pastors and Ginger, a dessert buffet, and then dancing with music spanning several decades. A fun time was had by all who attended. You can see for yourself here.
Saturday, July 20th      1:00 -3:00 p.m.                   "Messy Party"—outdoor fun for the whole family
A Messy Party is exactly what it sounds like!  Messy crafts, messy food and messy water games, fun for the young and the young-at-heart with a variety of activities for the whole family.  The messy slide, "car wash", and messy marathon were big hits. No one left neat or dry. One of the craft projects was decorating a t-shirt—the creativity of the decorators is wild. Here are some fun pics.
Saturday, July 20th      7:00 p.m.                      Music Extravaganza in the Sanctuary
Saturday night's concert extravaganza in the sanctuary was superb. Many talented music ensembles and individuals from the church performed.  Honored guest and former member, Mark Clinton, a professional pianist  played a beautiful rendition of Claude Debussy's Claire de Lune.  Following the marvelous music was a reception. At the reception on Saturday evening, we enjoyed a display of examples of the creativity of our members using the theme of the 50th Anniversary or our slogan of "Shining the Light" in a multimedia presentations or video, a painting or drawing, a sculpture, some needlework, or some photos.
Sunday, July 21         10:00 a.m.                   Anniversary Worship Service with special guests (e.g., former pastors, District/Conference officials)
On Sunday at 10:00 a.m., the exact day and time as the very first service 50 years ago (which was held in the parsonage since there was no church building yet), a special anniversary worship service was conducted.  The 8:30 and 11:00 congregations were combined into one marvelous service for this unique morning of worship.
Following the service, there was a delicious catered luncheon for all to share along with the cutting of the celebration cake (a tasty treat not to be missed!).
Here are some highlights from St. Matthew's United Methodist Church's past 50 years as we look ahead to the next 50 years of "Shining the Light."
After the congregation started meeting in the parsonage, services were soon moved to Belair Junior High School on September 22, 1963.  The Methodist Youth Fellowship was established in this year for approximately 20 junior and senior high students.  Charter members of the church numbered 103 as of February 1964 and the congregation grew as new families moved to Bowie.
The Women's Society of Christian Service was begun in 1964 and split into three Circles.  Cub Scout Pack #1249 first was sponsored by the church in June 1964.  Choirs for both adults and youth were formed in this year.  Ground-breaking for the first segment of the building at 14900 Annapolis Road was on July 5, 1964 and the first services were held there on September 5, 1965 with a membership of 297.  This first unit included a multipurpose room, nine classrooms, offices, and a kitchen.
A new mission of the church was initiated in 1965 in the form of a nursery/kindergarten which is now the Early Education Center or EEC.  The Methodist Mens group was chartered in 1966.  Need for new space was immediately recognized and a plan for a sanctuary began in 1967.   In 1968, the Methodist Church joined with the Evangelical United Brethren Church to become the United Methodist Church.
On July 23, 1972 ground was broken for the Sanctuary and Bell Tower.  Then on September 9, 1973 the Sanctuary was consecrated.  In 1974 the bell choir was formed.  About this time the congregation numbered 1250.  Even more space was needed so the Education Wing was built in 1984.  In 1990 a new mission was initiated in the form of the St. Matthew's Housing Corporation to provide housing for working homeless persons and in 1995 more homeless began being served by the Warm Nights program and our apartment shelter. Our Theater Troupe was established in 1996.  The fourth and most challenging building project was the Wesley Wing, a three-story section, begun in 2001 and completed in 2002, including seventeen classrooms, a music room, a robe room, two offices and a workroom, restrooms, kitchenettes, a shower, and storage rooms.  The Columbarium project was completed in 2003.